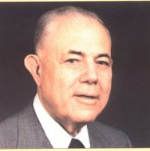 Anthony Rossi grew Tropicana into the largest fresh-chilled orange juice company in the world and donated millions to further the work of Bible schools and missionary services. He immigrated to the United States from Sicily at the age 21; unable to speak any English, without formal education, and with no money or connections to help him get started in America. Anthony Rossi went on to own many businesses and to eventually take over a small orange juice company in Bradenton, FL and through innovation, creativity and tenacity, transform it into the industry leader, Tropicana.
Anthony was raised a Catholic but after selling his New York City grocery business, began reading the Bible and attending the First Methodist Church. He then began to daily commune with Jesus Christ, subsequently taking everything to the Lord in prayer. He began to give God the glory for the solutions to difficult problems and the development of new ideas. In turn, God took Anthony Rossi's willing heart and developed him into a servant-leader who employed God given talents to benefit others and to be useful for God's work in the world. His efforts to advance the Gospel through his Aurora Foundation were extraordinary; funding Christian Educational institutions and Christian missions, including the funding of a church in Anthony's native Sicily and the creation of the Bradenton Missionary Village, a one hundred acre, $10M Florida community for retired missionaries. In a Town and Country Magazine in 1983, he was named one of the top ten most generous living Americans. To please God became the primary objective of Anthony Rossi.
To learn more about the extraordinary life of Anthony Rossi, check out the book Anthony Rossi Christian & Entrepreneur by Sanna Barlow Rossi.