S Truett Cathy
has fostered children for over 30 years and has taken in over 200 foster children through WinShape Homes. His WinShape Foundation funded over $18 Million to develop foster homes and summer camps. The foundation has also awarded nearly 820 students of Berry College with scholarships of up to $32,000. His Leadership Scholarship program for Chick fil A employees has awarded mroe than $23 Million in $1,000 scholarships in the past 35 years.
After serving in the US Army during World War II, along with his brother, Truett opened the Drawf House restaurant in 1946 in Atlanta, GA. Over the course of the next 20 years, his restaurant would burn down twice and both times, he would gone on to rebuild it. In 1963, he began licensing his special secret Chicken sandwich recipe to other restaurants. Unable to keep consistent quality, he decided to stop licensing his precious Chick-fil-A recipe and in November of 1967, the first Chick-fil-A restaurant opened in the Greenbriar Shopping Center in Atlanta, GA. It did so well, they opened another one, not ever conceiving of the idea that it would one day be over 1,500 locations. Through innovation, creativity and past experience, he attracted the right kind of franchisees and business executives and slowly but surely began to add more and more locations. In the mid 1990s, he hired an advertising agency out of Dallas who came up with the idea of putting cows with bad grammer on billboards. It was a stroke of marketing genius that continues to be wildly successful to this day. Now, his sons run the business and another generation is leading Chik-fil-A to success through sound business principles and by putting God first in their enterprise.
S Truett Cathy's life is an extraordinary example of what one can accomplish when wholly committed to Christ. Truett has gone on to write several books, and perhaps the best is, Eat More Chikin, Inspire More People by S Truett Cathy.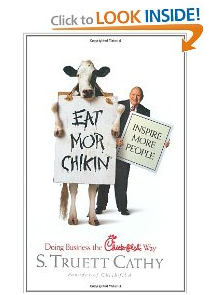 S Truett Cathy is founder of Chick-fil-A and is one of the finest Christian entrepreneurs in American history. Cathy exemplifies what all Christian businessmen should strive to be in the workplace. Chick-fil-A is a very profitable national brand with gross revenues exceeding $4.5 Billion a year despite his mandate that each of the more 1600 fast food restaurants be closed on Sundays (what many in the fast food industry experience as one of their busiest days).