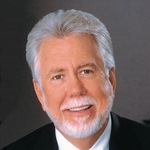 Norm Miller is chairman of Interstate Batteries and a Christian business executive of the highest caliber. Starting from humble beginnings, he sold his way into the American Dream, selling for with the Interstate Batteries company, complete with a big house, nice cars and a beautiful wife. Rather than happiness and joy however, Norm felt that there was something missing in his life. Meanwhile, he was drinking heavily. It got so bad that his wife was threatening to leave him. Then, he got his third DWI and it finally hit him that he had become an alcoholic like his father. He cried out for help, "God, help me! I can't handle it!" God took away his addiction right then and there. Norm Miller committed his life to Christ and went on to become CEO and later Chairman of Interstate Batteries, an industry leading company recognized for its honesty and integrity.
He is also a board member for Dallas Theological Seminary, Dallas Seminary Foundation, and the Overseas Council. He is cofounder of the Great American Race, America's premier vintage car event. He and his wife, Anne, have two children, Tracey and Scott, and five grandchildren.
Norm was looking to, "lift up Christ so that He might draw the people of his city to Jesus," a conviction on his heart from reading John 12:32. In collaboration with the e3 Partners ministry team, I Am Second was born which has become an extremely encouraging resource, comprised of famous believers testimonies in video format. If you like GiantsForGod.com, you'll love IAmSecond.com.
You can learn more about this extraordinary man's life in his autobiography, " Beyond the Norm" by Norm Miller