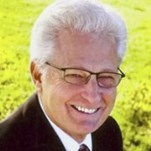 David Green, founder of Hobby Lobby, opened his first retail business in 1970 with $600 in start up capital and parlayed it into a $2 billion per year retailing giant with 434 stores.  Forbes® estimates his personal fortune to exceed $3 Billion, making him one of the richest people in the world.  By the world's standards, he is a remarkable success.  However, what makes him an even greater success is his commitment to sharing his faith in Jesus Christ through his business.  From spending thousands each year to advertise in newspapers the Gospel during the Christmas and Easter holidays, to playing Christian music in his stores, closing on Sundays and altogether operating his business according to biblical principles.
The inspiration behind placing ads in newspapers to spread the Gospel came when David noticed that the real meaning of Christmas and Easter was progressively being removed from every facet of society.  His Hobby Lobby stores already placed ads in more than 250 papers across America every week.  He further reasoned that since retail merchants bring in billions every year from Christmas and Easter, he ought to make a bold statement of faith by bringing back the true meaning of these holidays.  His first ad ran in 1997 and took up a modest six inches square.  Two years later, he had upgraded to a full page ad for each holiday and he has taken out full page ads ever since.  You can view his entire gallery of ministry ads HERE
Much like S. Truett Cathy, David choose to go against the retail grain and close his stores on Sundays.  Further, he has created a work environment that glorifies his Savior, by having a servant's heart and putting others ahead of himself.  He raised wages in 2009 while the rest of the retail business world froze or even cut back on labor expenses.  Despite persistent urgings to take his company public, David has kept Hobby Lobby private so that he has the freedom to use the company profits as he and his family so chooses.  From running holiday newspaper ads, to funding a hospital in Haiti, supporting his local homeless shelter and printing literature about Jesus for those in faraway places, so long as Hobby Lobby stays privately held, the Green family can continue to contribute to kingdom building unabated.  His willingness to place principals ahead of profits proves that he places God first in his life.
Although he grew up poor financially in rural Oklahoma, he was raised spiritually rich by a devote Christian home.  His father was a pastor and the message prominently displayed in his childhood home was, "Only one life; 'twill soon be past.  Only what's done for Christ will last."  As David progressed in his career as an adult, his mother continually asked, "That's nice, Dave.  But what are you doing for the Lord?"  His two brothers followed in the footsteps of their father, becoming pastors, while two of his sisters married pastors and the third became an evangelist.  As an entrepreneur chasing the almighty dollar, David struggled early on to figure out if he was doing anything for Christ.  It wasn't until his first big financial gift of $30,000 that he finally recognized that God purposed him to be a merchant.  Much like the revelation RG LeTourneau experienced when consulting with Pastor Duval, Green reasoned, "God is not averse to business, he's not just a Sunday Deity and he understands margins, spreadsheets, competition and profits."