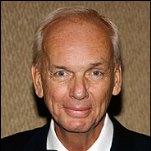 Bud Paxson founded the Home Shopping Network and later became an evangelical Christian that pioneered the largest family-friendly television network PAX TV. From humble beginnings, Lowell "Bud" Paxson persevered through several financial setbacks and unsuccessful enterprises to become a very wealthy and well respected media mogul. To audiences, Bud Paxson shares, "I'm going to let you decide whether or not I'm a great entrepreneur. I've started twenty-five businesses that I had to shut down because they didn't make enough money. I've had fifteen businesses that I sold for enough to make a little profit and cover the twenty-five unsuccessful efforts. And I've had two very big winners. Now you tell me me, how successful am I?"
Home Shopping Network
The idea behind Home Shopping Network is a fascinating glimpse into the real world of innovation. Bud was operating a struggling AM radio station and one of their advertisers, a local appliance store, refused to pay its invoice in cash, but rather, gave Paxson 118 can openers as payment. Out of money and fearing not being able to make payroll the next day, Bud was desperately ruminating over what to do with the can openers as he drove back to the station. An idea hit him that would change his life (and the way people shopped). He told the live radio personality to allow him to butt in on air and then Bud proceeded to tell the listening audience that if they paid in cash and came down to the station, they could buy a $30 electric can opener for only $10. All 118 can openers sold rather quickly and he was able to make payroll. After several years of selling household items over his AM radio station, he sold the station and with partner Roy Speer, launched a cable television show in 1982 that sold products directly to Florida viewers. Despite criticism from industry leaders at the time, the show grossed $12M in its first year on the air and by 1985, it had gone nationwide and was on its way to $1B in yearly gross revenues.
Hitting Rock Bottom
While his Home Shopping Network was experiencing meteoric growth, trouble was brewing at home. By 1986, Bud Paxson was traveling all over the world and was away from home 260 days out of the year. His financial position exploded, but so too did his marriage. On Christmas Day 1986, Bud's wife broke the news that she was leaving him for another man. He considers this the lowest point of his life. "I was absolutely and completely bankrupt. I was a millionaire, yet all of my success was worthless because I had lost my wife and wasn't close to my kids," recalls Bud.
Finding Jesus in Vegas?
His Christmas gift to the family for 1986 had already been arranged, a trip to Las Vegas. His adult children urged to him to go, despite the bomb drop from his wife, so Bud along with his kids headed to Vegas. On New Year's Eve, after all the festivities had ended, he remained unable to fall asleep. At 4AM, he felt an urge to read the Bible, something he hadn't read since he was a child at Sunday school, and locating one in a drawer next to the bed placed by The Gideons, he read Romans 5:8 and gave his hear to Christ. It was the turning point in his life.
A Life Centered in Christ
Bud had an insatiable appetite for learning the Bible and with the help of a local pastor, he began to truly understand hove to live a life committed to Jesus Christ. His business practices began to change too and the Home Shopping Network flourished. When he sold the company, his take was $118M. Instead of retiring, as many of his closest advisors suggested, ever the deal maker, Bud used the money to buy up local television stations at a time when many were selling. He felt the Lord had given him a peace about the plan and it paid off when a Supreme Court decision imposed a must carry ruling on the networks, greatly increasing the value of the stations he had just purchased. He then parlayed these acquisitions into the creation of the television network PAX TV. Rather than simply complain about the growing number of violent and sex-laden programs on cable television, Bud did something about it (in Roaring Lambs fashion) and aired uplifting programming infused with Christian principles such as Touched by an Angel, Seventh Heaven, Highway to Heaven and Dr Quinn Medicine Woman. Late night, he would air a program called Worship. He eventually sold this network in 2005 (it's been renamed Ion Television).
Although he was unable to restore his marriage after becoming a Christian, his relationships with his kids improved and he eventually re-married a Bible believing Christian and they have lived happily ever after.
Bud Paxson is perhaps best known for launching the Home Shopping Network but his contributions to bringing a Christian Business perspective to television has been extraordinary. A mighty man of God and certainly worthy to be in this exclusive group of Giants for God. To learn more about his extraordinary life, in his owns words, read his autobiography
Threading the Needle by Lowell 'Bud' Paxson