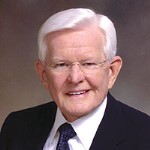 Bo Pilgrim is the founder of Pilgrim's Pride, formerly the largest chicken producer in the US, and is a one-of-a-kind Christian businessman. A true rags to riches story, Bo came from extremely humble beginnings. In 1946, he opened his first feed store in Pittsburg, TX, and some sixty years later, Pilgrim's Pride was a Fortune 500 publicly traded company grossing over $5 Billion per year with more than 40,000 employees scattered across North America. And although Bo Pilgrim is extremely ambitious, with a Texas-sized competitive nature, he maintains that the real reason for his personal and company's existence on this earth, is to give God the credit and to give God the glory for everything good that has been accomplished.
Bo Pilgrim has been quite generous with his money throughout his life because he considers it all God's money anyway. The Patty & Bo Pilgrim Chapel> at Dallas Baptist University, the Patty & Bo Pilgrim Cancer Center at Texas Oncology in Mount Pleasant and the Witness Park and Prayer Tower in Pittsburg, TX are but a few of what Bo has done with the money God has blessed him with. After discovering that his net worth had reached $1 Billion, Bo replied, "Not one cent of it belongs to me. It all belongs to the Lord."
"God knows how to grow your business in ways you can't conceive. God knows how to coordinate your business in ways you can't fathom. God knows how to orchestrate the overall plan in ways you can't predict or control. Trust Him. And do the work that He puts immediately in front of you to do." — Bo Pilgrim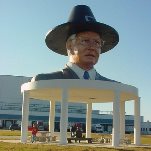 Bo is a unique Christian entrepreneur as well. One of his main business tenets is to, "add a dose of fun to your promotions". For example, next time you are driving through Pittsburg, TX on Highway 271, you'll see a giant Bo Pilgrim head monument in front of the Pilgrim's Pride world headquarters. That's not something you're likely to see from many of the other Giants for God! He has appeared in many of his company's commercials and other marketing promotions wearing a big black pilgrim hat. Bo may be humble in his profits but he has been quite passionate about promoting his business.
Bo made his share of mistakes as well. On July 4, 1989, in attempt to lobby for changes to workers' compensation law, he gave $10,000 checks to the 8 swing voters in the Texas Senate just 2 days before a vote was to be held. Although not illegal, it was certainly controversial and Bo told the press afterwards that it was a "bonehead mistake". Officials of the Dallas-based Bonehead University read his quote in the newspaper and decided to give Bo Pilgrim the Bonehead of the Year Award in 1990. Ever the optimist, Bo enthusiastically accepted the award because he saw it as an opportunity to promote Pilgrim's Pride's new boneless chicken products.
Perhaps the greatest example of being a true Christian in business is how one handles extreme adversity. Certainly Bo faced extraordinary challenges from an early age, losing his father at age 10 to a heart attack, and an uphill battle starting his own business with no money or guidance and an even tougher climb by operating in the extreme fluctuations of the chicken business. But arguably his biggest test came in December of 2008 when Pilgrim's Pride had to file bankruptcy to stay alive. The stock price plummeted. Shareholders suffered major losses, jobs were lost and people were outraged. Scathing reviews of Bo labeled him as a greedy corporate crook among the likes of Bernie Madoff. Within a year though, the company had emerged from bankruptcy. Nearly 75% of the company was sold to Brazil's JBS SA, the world's largest beef exporter. But the company emerged and slowly but surely, it is climbing back.
As every Christian businessman knows, Business is not always rosy and there are problems that must be dealt with. Bo Pilgrim has had more than his fair share but his faith in God and commitment to living a Biblically based life has helped him overcome those challenges. To glean even more wisdom from Bo's 60 years in business as a Christian, read his book One Pilgrim's Progress by Bo Pilgrim.