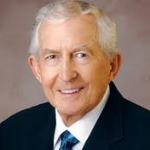 Paul J Meyer, founder of Success Motivation Institute, pioneered the personal development and self improvement industry, and was a model Christian in his business as well as personal life. His success training materials have inspired countless lives over the past 50 years and his Foundation has donated tens of millions to charities and ministries. He practiced what he preached, living an extremely successful life (his personal income ranged from $5 – $20 million per year for more than 50 years) while maintaining balance committed to Jesus Christ. Paul J Meyer went to be with the Lord in 2009 after living an extraordinary life that continues bless others to this day.
Born in San Mateo, CA on May 21, 1928 to a modest, hard working family, by age 25, Paul was the highest paid life insurance salesman in the US. At the tender age of 27, he became the youngest member of a special class of exceptional life insurance salespeople called, The Million Dollar Round Table. In 1958, he was hired as a sales executive for the fledgling Christian publishing company in Waco, TX, Word Records.
Two years later, at the age of 32, Paul J Meyer founded what would become the self improvement industry pioneer and leader, the Success Motivation Institute. Dedicated to "motivating people to their full potential," over the course of 50 years, Success Motivation Institute grew into an international group of companies marketed in more than 60 countries and in 23 languages with total sales in excess of $3 Billion. And Paul J Meyer became recognized as one of the world's foremost authorities in the fields of goal setting, motivation, time management, personal development and self improvement.
Paul J Meyer firmly believed all people could develop the necessary characteristics to achieve and live a lifetime of success. He was especially passionate about goal setting and much of his training materials centered around showing people how to reach their goals and achieve their desired success. He authored several books, including Fortune, Faith & Famil, Attitude is Everything, Forgiveness…the Ultimate Miracle, The 5 Pillars of Leadership, I Inherited a Fortune, and Unlocking Your Legacy.
In 1984, the Paul and Jane Meyer Family Foundation was established and has since given away more than $65 Million, mostly to Waco, TX area charities and organizations such as Baylor University, Boy Scouts of America and the Passport for Success program (which gives college scholarships to high school graduates of low income families). Ever committed to bringing Christianity into the marketplace, he established the Paul J Meyer Christian Leadership in Business Endowment in order to encourage a Christian perspective in business through Baylor University's Hankamer School of Business.
To learn more about Paul J Meyer and his incredible life and legacy, read these two books, The Joy of Giving, The Paul and Jane Meyer Story, by Dr. William Hinson and
Paul J Meyer and the Art of Giving by John Edmund Haggai